Project Lift Up is a suicide prevention program focused on supporting youth in our local schools who struggle with anxiety and hopelessness.
What Is Project Lift Up?
One of the hardest hit populations during and post pandemic has been our children and teens who are experiencing depression and anxiety in record numbers. Thoughts of suicide and attempts are increasing along with their overall feelings of hopelessness. We strive to support our youth and let them know that they are not alone!
Light A Lamp is dedicated to lifting up those in need, so when one of our volunteers (Kristine Songhurst), came up with the idea for Project Lift Up, the team got to work! The project partners with local schools to provide "mental health packages" to counseling departments and a kindness mission in partnership with leadership classes.
The mental health packs we offer include mental health resources, food/drink coupons, snacks, and hygiene products like lip balm, along with fun, yet useful items to brighten their day such as drawstring backpacks, journals, and tumblers. Fidget spinners and anxiety rings are a new addition to our packs as well.
The goal is to help students feel seen, let them know that people care about them and their struggles, and hopefully prevent self-harm.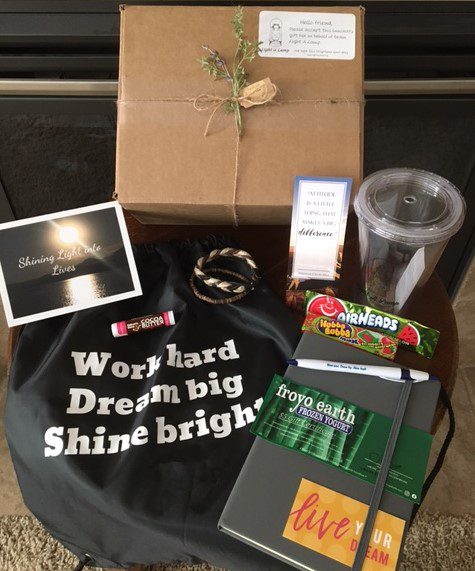 How Does Project Lift Up Work?
The Project Lift Up program has three main areas:
Providing Mental Health Packages to school counseling departments
Student Volunteer Opportunity (Kindness Mission)
Elementary School Kindness Mission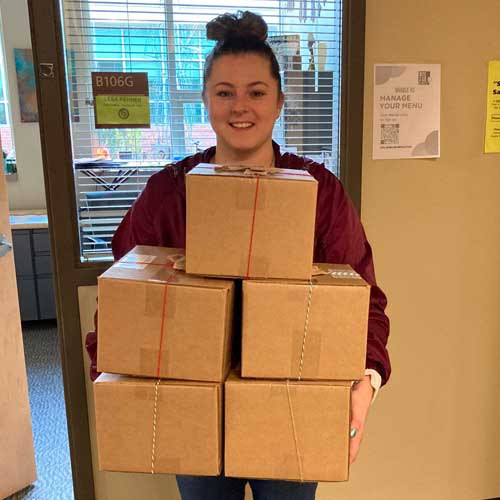 Provide Mental Health Packages to Schools
We partner with counseling and administrative departments in local schools, to support struggling youth. Our goal is to encourage these students in their times of need and let them know that they are not alone, by providing inspirational gift boxes that include mental health resources.
Schools participating in Project Lift Up will receive 5 of our mental health packages each month, in addition to our follow-up packages. We ask that counselors confidentially keep track of the students who receive a mental health package, and give them a follow-up package 2-3 months after the initial package, so they feel supported and not forgotten.
Student Volunteer Opportunity
Light A Lamp partners with youth groups and/or leadership classes that are interested in taking part in a kindness movement within their school. Our team will visit the class twice to introduce the project and to follow up.
Students hand make items such as notecards or bracelets that are then given out to other students seen doing selfless acts of kindness or to those having a tough day. This is an opportunity to teach the younger generation to show appreciation to others. It's a wonderful opportunity to remind leadership students of the honorable position they are in and how they can use the position wisely to help many students around them.
Elementary School Kindness Mission
This 3 week Kindness Campaign consists of three separate 20 minute visits from team Light A Lamp. Topics such as selfless kindness, courage and inner strength are talked about in partnership with short inspirational video clips. The students are provided with the opportunity to be the hands and feet of Light A Lamp's mission to recognize kind actions within their school.
After observations, the students will be given a small gift pack that they have the privilege of delivering to another classmate. Students find that their selfless action of recognizing someone else's good deed makes them feel good as well.
Help Provide A Light In The Darkness
Light A Lamp and Project Lift Up are funded by donations from the community, and all the work is done by volunteers.
Our generous sponsors and donors make it possible for us to provide our mental health packages to more schools. You can help by donating to Light A Lamp or participating in one of our fundraising activities!
Why Project Lift Up?
Kristine Songhurst - Marketing Director
In October 2021, the American Academy of Pediatrics declared children's mental health a "national emergency". Due to the pandemic, kids today struggle with anxiety and depression at much higher rates than before.
No one, especially not kids, should ever have to feel alone or struggle with feelings of hopelessness without help. I want all kids to know that when they are in their darkest times they are not alone, they are loved, AND they matter. It's my hope, through Project Lift Up, to make a difference - one person at a time.